Driveway, Patio, and Walkway Cleaning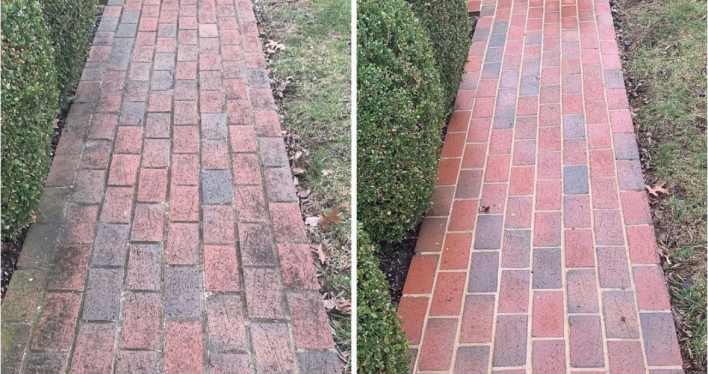 Patio, driveways, and pathways are the important parts of your property and require regular cleaning services. Concrete is porous in nature, and therefore, keeping it clean from algae, mold, and mildew can be a real challenge. Still, you shouldn't ignore its cleaning. You need to protect the concrete driveway from dirt and grime buildup because it would not only contribute to the unsightly appearance but also destroy your concrete driveway.
Here at Magic Wand Pros, we offer professional concrete cleaning services to clients with guaranteed results.
Your concrete surface can be easily stained with oil, tyre marks, grease, grime, chemicals, mold, and chewing gum and requires regular cleaning to keep it clear. As they are exposed to a lot of activities and movements, a professional concrete cleaning service provider can help you clean them with different washing methods including pressure washing and power washing with the use of essential cleaning agents.
At Magic Wand Pros, we work with trained and qualified cleaning professionals who make sure that most stains can be removed from your concrete surface concrete with the proper equipment and procedures. We use a combination of high pressure and power washing cleaning methods to clean out dirt, debris, chemicals, and grime from your concrete areas to bring them back to their original appearance. Our deep concrete cleaning process removes the toughest stains safely and effectively without damaging your floor.
We offer professional concrete cleaning services to both residential and commercial properties. We use industrial equipment, advanced techniques, and environmentally safe products to provide the best value cleaning service for your hard floor surfaces such as concrete, brick, and stone.
What do we clean?
Patios
Sidewalks
Parking lots
Fueling Pads
Trash Chutes
Driveways
Front entryway
Backdoor area
Dumpster Pads
We professionally clean and remove all kinds of messes like dirt, grime, rust, oil, gum, algae, and mildew using efficient and appropriate surface cleaning agents as per your requirements. No matter what kind of concrete cleaning job you have, we help you keep your exterior surface bright and clean like new.