Commercial Washing Services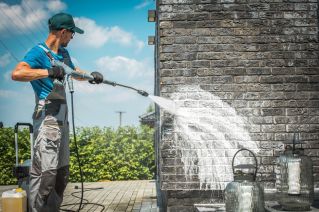 Commercial Washing Services for All Types of Commercial Buildings and Requirements
Magic Wand Pros is a locally-owned, operated and insured company that offers affordable pressure washing in Northern Virginia and goes the extra mile to ensure that your building is clean and free from dust, grime, and patches. For tough stains and grime that don't seem to wash off, our professionals provide a powerful washing solution. We blast away all the dust, dirt, algae, mold, weathering patches, and growth to ensure that your home or commercial building starts looking brand-new again.
Magic Wand Pros offers a wide range of commercial power washing and cleaning services. We know how important a clean building and exterior is to your business. Right from retail stores and complexes to property management companies, we offer power washing and cleaning solutions that demonstrate your commitment to quality, cleanliness, and hygiene for all. Whatever it is you want to clean or wash in your commercial place, call us right away, give the details, and we would provide no-obligation estimates.
Almost any surface or substrate on your building can be washed. Concrete, wood, vinyl, or composite - you just tell us. We have an ideal washing solution for your every need. Right from siding to decks and patios, we can clean it all for you.
Though we offer all types of building washing services, we usually recommend soft washing services for houses, especially the older ones. You may think that pressure washing or power washing is a better solution for your house. Believe us, it is not the most suitable technique to wash a house. High pressure of water, cold or warm, can damage the siding and/or cause the water to seep inside the walls.
On the other hand, with soft washing, you can enhance the life of your building siding and paint and will be able to enjoy the nice appeal of your home for years to come. Moreover, soft washing is specially designed to clean the exterior of your home without damaging it. So, unless pressure/power wash is utmost necessary, it is best to hire soft washing services to make your building clean and dirt-free.
Call us at 540-454-7338 whenever you want your commercial property to look clean and refreshing.
How do we work?
We offer professional house washing in Northern Virginia and its nearby regions. It is very easy to start with us and we will make your life easy by taking care of all your washing jobs. You can directly contact us via calls and book your house washing services with us in just a few minutes. We will help you find an affordable house washing plan as per your requirements. A team of cleaning experts will arrive at your home based on what requirements you have. They will clean and wash your house inside out and transform it as you want it to be. So, just sit and relax and leave the cleaning to us.
Areas We Serve
Along with North Virginia, at Magic Wand Pros we strive to offer the best house washing services in surrounding areas, including Round Hill, Ashburn, Leesburg, Hamilton, and Berryville.
Why choose us?
Affordable pricing
Highly experienced cleaning staff
Best service guaranteed
Professional tools, techniques, chemicals, and solutions
Safety and protection
So, if you are looking for the best house washing services in Northern Virginia or surrounding areas, contact us for more details and book professional washing services as per your needs. We are happy to answer any queries you have and provide a quote. Reach us whenever you need your house to be washed and clean.