Sidewalk Cleaning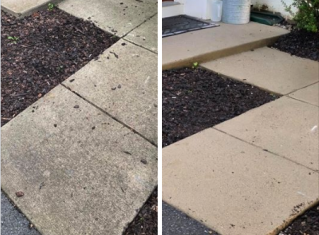 You love to keep your house clean and clear, so keep your outdoor and patio clean as well at your place. Patio, driveways, and pathways are the important parts of your property and require regular cleaning services. If you have concrete floors, patios, or driveways at your place, they require extra care and cleaning services regularly to extend their service life and enhance their beauty. Here at Magic Wand Pros, we offer professional concrete cleaning services to clients with guaranteed results.
At Magic Wand Pros, we work with trained and qualified cleaning professionals who make sure that most stains can be removed from your concrete surface concrete with the proper equipment and procedures. We use a combination of high pressure and power washing cleaning methods to clean out dirt, debris, chemicals, and grime from your concrete areas to bring them back to their original appearance. Our deep concrete cleaning process removes the toughest stains safely and effectively without damaging your floor.
We offer professional concrete cleaning services to both residential and commercial properties. We use industrial equipment, advanced techniques, and environmentally safe products to provide the best value cleaning service for your hard floor surfaces such as concrete, brick, and stone.