Rust Removal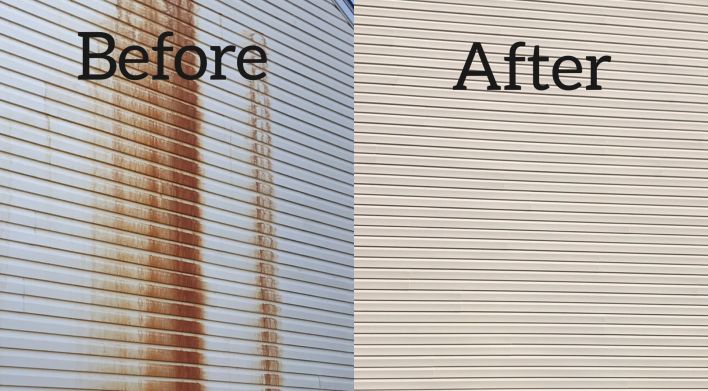 Improve Your Home's Curb Appeal and Value with Our Rust Removal Service
Rust not only leaves behind unsightly stains but can also lead to structural damage. The last thing you need is to reduce your home's value or curb appeal. That is why if you notice rust build-up around your home, get in touch with Magic Wand Pros. We are specialists in rust removal and will remove all traces of rust from your home.
Why You Need Tackle Rust Right Away
We have worked with several homeowners in Round Hill, Purcellville, Ashburn, Aldie, Berryville, Bluemont, Brunswick, Charles Town WV, Hamilton, and Harpers to remove signs of rust. Besides looking unappealing and causing structural damage, there are several other reasons to get rid of rust.
Rust can lead to household tools, appliances, and sprinklers as well as surfaces to quickly deteriorate. As a result, you will end up with high repair and replacement costs. Also, rust can post health risks. Rust dust and flakes can irritate the eyes, nose, stomach, ears, and throat. If you are exposed to rust dust over a long period, it can lead to chronic lung disease and siderosis, which is an excessive iron deposit in the tissues and can be fatal in the worst-case scenario. Rust also contains anaerobic bacteria and if you happen to cut yourself on something rusty, these bacteria can enter your body and cause tetanus.
As you can see, there are many reasons to remove rust from your home, and Magic Wand Pros is the right professional service to help you out. We have the right tools and equipment, and our technicians are licensed and insured and have the knowledge to effectively use the tools and equipment.
Why Hire Magic Wand Pros to Remove Rust
We utilize pressure washing to remove rust from a variety of surfaces besides metal surfaces. Our low-pressure washing technique can remove rust and rust stains from brick, stone, rubber, stucco, vinyl, tile, and concrete without causing any damage to these surfaces. Our technicians adjust the water pressure based on the surface and we ensure you get optimal results.
Our method of removing rust is not only effective but can also remove mold, dirt, dust, and other buildups on surfaces. We are experts in removing stubborn rust stains from furniture, driveways, fences, and sidings, and as a result, they will require less maintenance in the future. Our removal method prevents rust from returning and in the long-term, we help you save money as your home will not develop issues due to rust.
We do not use harmful chemicals to get rid of rust and rust stains. Hence, our method of removal is eco-friendly. We efficiently and effectively use pressure washing that does away with the need to use chemicals.
Look for Professional Rust Removal?
You should not waste time addressing rust issues. Rust can spread around your property and lead to bigger problems if you ignore the problem. If you are based in Round Hill, Purcellville, Ashburn, Aldie, Berryville, Bluemont, Brunswick, Charles Town WV, Hamilton, and Harpers, get in touch with Magic Wand Pros right away. We use tried and test rust removal methods that will not damage or harm your property.