Pool Deck Cleaning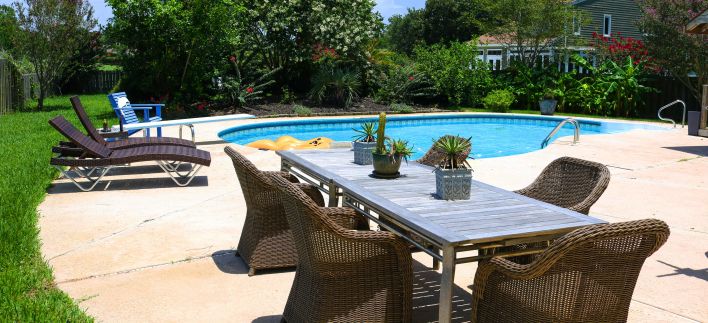 Pool Deck Cleaning that Ensures Optimal Results
Most homeowners believe that they can do regular pool deck cleaning on their own with the help of a garden hose or a rented power washer. However, it is not a DIY job as a garden hose will not get rid of the dirt, grime, and stains while incorrect usage of a power washer could damage the timber, concrete, or wood. What you need is professional deck cleaning using the right brushes and surfactants. That is why you need a professional pool deck cleaner like Magic Wand Pros.
We have been catering to residential clients across Round Hill, Purcellville, Ashburn, Aldie, Berryville, Bluemont, Brunswick, Charles Town WV, Hamilton, and Harpers, and have carved a reputation of being professional and efficient in our job.
Our technicians are trained, licensed, and insured and they have access to the right equipment, tools, cleaning agents to ensure that your pool deck is not just clean but also free of chemicals, mildew, and germs.
Why Do You Need Professional Pool Deck Cleaning?
A garden hose does not have the power to get rid of pool chemicals, mildew, dirt, grime, and other debris. So, you will end up with the scrub brush and detergent to clean the pool deck. Using the wrong brush or detergent can harm the pool deck.
If you decide to use a power washer, the risk is high that you will not get the pressure right. Using pressure that is too high can damage the pool deck while inadequate pressure will not clean the deck whatsoever.
Your concrete, wood, or tile deck may feel resilient but it is not necessarily as strong as you think. That is why you need a professional pressure washing company like Magic Wand Pros to handle the cleaning of your pool deck.
We use effective and result-oriented low-pressure cleaning technique and specialty surfactant that is potent enough to dissolve embedded dirt and grime. The surfactant enters the nooks and crannies to dissolve dirt, grime, and other debris and then our soft-bristled rotating brush gently removes all traces of stains and other build-ups to leave your pool deck looking clean and pristine.
Our soft pool deck washing technique removes all surface residues and stains without causing any damage to the concrete, timber, or tiles as well as paint and sealant. You do not have to worry about chips and cracks when our technicians wash and clean your pool deck.
Depending on the material that the deck is made from, our technicians choose the right surfactant. We are adept in providing specialty care to pool decks and know exactly the kind of detergent to use to deep cleanse and remove all signs and traces of build-ups, including mold and algae.
Contact Us Today!
To find out more about our pool deck cleaning methods or to get your pool deck cleaned, get in touch with us today. We have many satisfied residential clients in Round Hill, Purcellville, Ashburn, Aldie, Berryville, Bluemont, Brunswick, Charles Town WV, Hamilton, and Harpers, and would like an opportunity to demonstrate our expertise in cleaning your pool deck. We would be more than happy to provide you with a no-obligation quote or clean your pool deck.