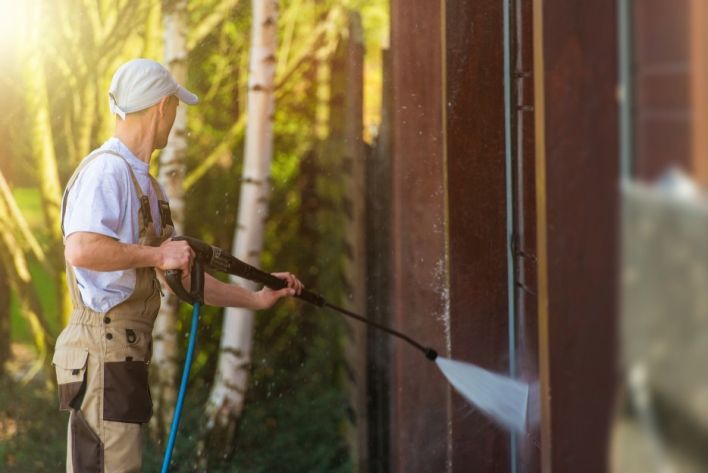 Why your property needs regular pressure washing
Pressure washing the property might sound extravagance to any homeowner if they are not aware of its benefits. But when the facade of the property gets a little dingy, the pressure washing always comes to rescue. In residential pressure washing, the sidewalks, pathways, courtyards, garage floors, and many other surfaces are cleaned.
Though, it might seem an easy task, handling a pressure washer isn't a child's play. It needs a lot of experience and professionalism, which is why it is important to hire a pressure washing service.
Why your home needs pressure washing
Preventsproperty damage

In winter, your house's exterior surface can be seriously damaged due to moisture. When grime or stains stays for a long period, they cause permanent damage to your home's exterior surface. The mold can damage the painted surfaces and concrete coatings if left unchecked for a long period. A regular pressure washing can remove the dirt and grime and prevent it from permanent damage.
Protect your and family's health

Dust and mildew not only affect your home's appearance but your family's health as well. If residential pressure washing is not done regularly, then dirt, grime, and mildew can accumulate on your house exterior surface and can make you or your family member very ill. By pressure washing, the allergens can be removed and can protect your family from harmful bacteria.
Enhances the curb appeal

Without spending a lot of money on renovation, pressure washing can get your house a tidy and neat makeover, which is why it is said to be a restorative process. You can refresh your property's look by removing years of stain and dirt. When you give a refreshing look to your house exterior then only landscaping and decoration make the house look more special.
Increase the property value

Pressure washing can make a huge difference if you are planning to sell your house. Pressure washing will help in giving your house a fresh and clean look. A good looking house is much easier to sell or rent.
Save money

The cost of any sort of maintenance can burn a hole in your pocket. Preventive maintenance like pressure washing can maintain your property value and avoid costly repairs. Pressure washing is inexpensive than refinishing and renovating.
Time-efficient

With a busy schedule, you might only have limited time to clean your house exterior. For an efficient way to clean the exterior surface of your house, you need to hire a pressure washing service. When expert pressure washes your home, you don't have to worry about climbing ladders, scrubbing strenuously at stubborn stains, and mixing cleaning solutions.
Let the professional do the work and you can watch the high-pressure jet of water clean away all the grime and muck.