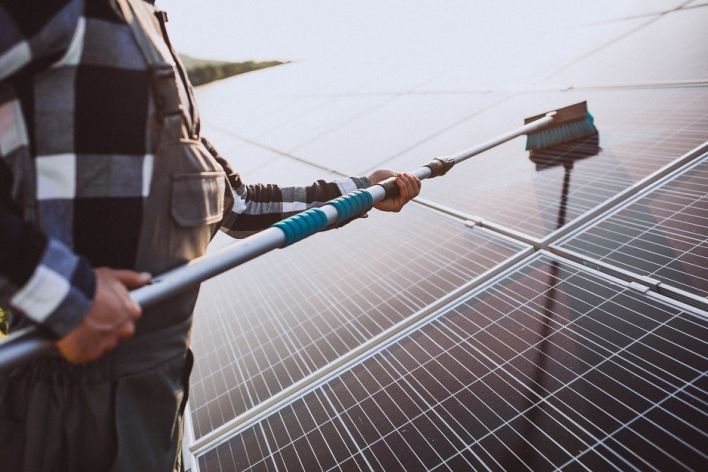 Why is it Better to Hire a Professional to Power Wash Your Roof?
If you start to notice unsightly black streaks on your roof, those are not stains but rather algae growing and eating at your shelter. At this point, it is extensive and requires to be removed promptly.
Removing algae, moss, and streak from your roof is essential in extending its lifespan. Using high pressure to wash your roof can cause structural damage to the shingles. As a result, the best way to safely and effectively clean your roof is with the assistance of power washing companies.
Why You Should Soft Wash and Not Pressure Wash The Roof?
Pressure washing the roof is quite hazardous for many reasons. Although you want to keep your roof protected, you should also keep your safety in mind. Using high pressure when washing a roof can cause structural damage. And with that damage come premature replacement that is exactly what you want to avoid when washing the rooftop.
In addition, trying to pressure wash the roof yourself can be risky. Whether attempting to wash it from a ladder or walk around on the roof, using high-powered machinery on heights is dangerous and not advisable.
The soft wash method is the best way to remove algae, moss, and black streaks from your roof. Soft washing depends on a cleanser to remove these contaminants and followed by a light rinse. Soft-wash is also ideal to ensure that everything remains structurally well-maintained.
Let's take a look at how Power Washing Companies can take all the worry out of maintaining your roof.
1. Extend The Life of Your Roof
The algae feed on the limestone in and around the shingles on your roof. The power washing professionals will not just make your roof look like new but will help prevent you from paying thousands of dollars for a costly and hectic replacement roof.
2. Cost-Effective
As the black streaks continue to eat away at the shingles on your roof, it will cost you more and more to keep your home well-maintained. The algae will breakdown the shingles of your property, and it will reduce their ability to reflect the sun's rays. And when the summer comes around, the black stain from the algae will absorb more heat.
3. Keep the Mold Out
The algae growing on your roof won't just stop there. Gloeocapsa Magma is airborne and will travel to the entire exterior of your property. Removing the mold as soon as possible from your roof will reduce the cost of power washing the rest of your home.
Remember, long-term damage to your roof from the algae creates an ideal breeding ground for mildew and mold. Keep your family safe and secure by stopping these organisms from making their way inside your house.
4. Enhance the Curb Appeal
Remember, when planning to sell your home, a well-maintained and clean looking roof will raise the value of your property. Not just that, the power wash will help reduce the spread of the algae.
5. Keeps You Covered
There are many homeowners whose policy does not cover damage or leaks from a lack of maintenance or a disastrous attempt to power wash the home. Therefore, investing in regular upkeep in your roof will save you money in repairs or a complete roof replacement.
Your roof is strong, and it protects you from the wrath of nature, but that does not mean it can be cleaned with a standard power washing cleanser and equipment. The professionals atpower washing companiesknow how to approach every cleaning challenge and remove the year of dark algae buildup and as much moss or lichen as possible.