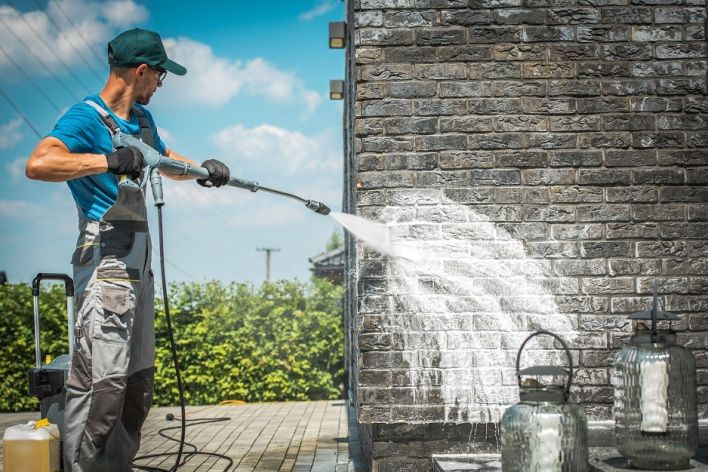 Why Hire Professional For Power-washing Service than DIYs?
If you notice that suddenly you or your loved ones are getting sick for no apparent reason, chances are mold, and other debris is growing around your home. These things will not only going to take a brutal toll o your health but will also deface the exterior of your residential property. However, these things could be put at bay; all you need to do is- hiring a professional for pressure washing services. In Leesburg, there are numerous pressure washing service providers for washing commercial as well as residential properties. They will ensure to eliminate loose paint, mold, grime, dust, and dirt from concrete surfaces, vehicles, and the exterior of your home.
Without any denial, bringing back the freshness to your home is quite simple with a help of a professional pressure washing services provider in Leesburg.
Not yet convinced? NO worries, we have arranged a list of reasons why one must hire a professional power washing service in Leesburg.
Enhance Property's Value: There is no denying that sun, debris, acidic rainwater impacts your property. These natural elements erode the paint, cause cracks, and plenty of other things that can tarnish the aesthetic appeal of your property. No matter whether you want to have an eye-catching property on the roadside or willing to sell your property, the well-maintained attractive property can double the value of your home. So, rather than DIY, it's better to opt for pressure washing services.
Contribution Towards Sustainability: If you try to wash your home on your own, you will end up using at least four to five gallons of water per minute. Don't you think it is a hefty wastage? Certainly! But with professionals, this wouldn't be the case because they are trained in various water conservation methods.
Prevents Permanent Damage: Doubtlessly, when mildew, mold, grime, and other things are left untreated; they are prone to cause never-fading harm to the property. But by opting for routine pressure washing, you can be at peace because the experts will ensure to shield your property from long-term damage. Additionally, this is safer than DIYs.
Shield Surfaces: Someone has rightly said, one-size- ain't fit all! Both commercial and residential property is made from different materials. According to your surfaces, the pressure and temperature of the water need to get adjusted, which a maximum number of people don't know. Just for your better understanding, the pressure will not be the same over a brick home, wooden deck as well as vinyl siding. So, when you invest in professional services, they will ensure to adjust the pressure and temperature according to your surface's requirement.
Boost Aesthetics: You would have probably heard about "the first impression is the last impression." Be it a commercial property or residential one, the only weapon to woo or attract passerby is to keep the exteriors up to the mark. So, if you will invest in professional power washing services, you can easily keep your walkways, parking lots, exterior walls, and sidewalks clean and eye-catching.
We hope these reasons would be enough to make you understand that hiring professionals for pressure washing services would be a wise choice.