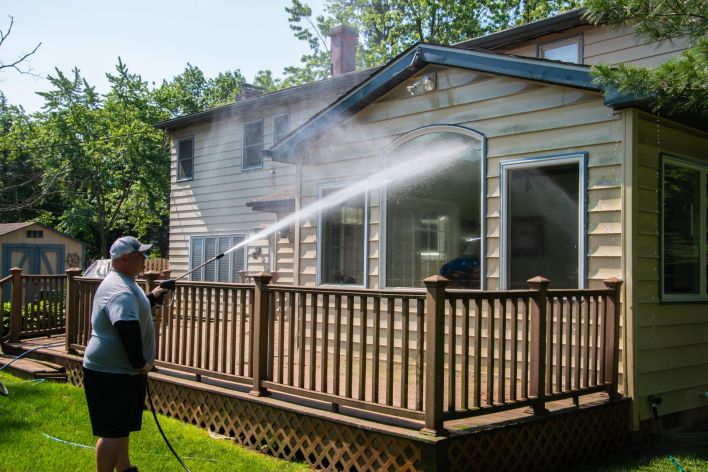 THINGS TO KEEP IN MIND WHEN CHOOSING A PRESSURE WASHING COMPANY
The process of hiring services from a reliable and suitable pressure washing company can be quite a tricky and tough task, especially if you have never hired one before. Each pressure washing company tends to provide its customers with different kinds of services with varying results and expertise. So, it is necessary for you to determine what you expect from the company and then select the best pressure washing services for your property.
Take your time, do plentiful of research, and only then come to a decision. When you are looking for the best pressure washing services to clean and wash your house or business property, ensure to check out the work they might have done in your locality, if possible. This helps you add insights and then consequently, make you come to a well-informed and correct decision.
Here are some of the things you should keep in mind when selecting a pressure washing company for cleaning your property.
The process of their work:
When you are looking to find a reliable pressure washing company, you must ask about the process that they use to do their task. Different contractors approach the washing process differently and there are some companies that provide you with services that others don't. So, find out f your shortlisted company offers you effective and distinct processes required to clean your driveway, siding, roof, walkway, patio, or any part of the property that you choose.
Credentials:
Obviously, you would not let someone without any qualifications or appropriate credentials to work on your home. So, it is important that you ask about the credentials of your pressure washing company. It is of utmost importance that the company that you choose possesses insurance and coverage for their employees performing the washing job because if not, you could be on the hook for accidents or injuries that might happen during the project.
Customer satisfaction:
Before you go through and hire any pressure washing company, make sure to carefully read the ratings and reviews left by previous customers of the company. However, if the online presence and customer feedback are absent then it is better to go with another company, which provides customer satisfaction, as their reputation cannot be verified.
The cost:
Cost should not really be a determining factor in choosing a pressure wash company, but still, it is better to inquire about the costs directly with the company associated with finishing the task. You should ask for estimates and compare quotes; however, price should not be the main determining factor when you are looking for the best pressure washing services.
The equipment:
Another thing you must inquire about is the equipment the company uses to clean your driveways, home, or walkways. You should look for the quality of the tools and cleaning agents used and make sure that the brands used are reliable. If they fail to provide you with this information this might be due to the fact that they use inferior cleaning products, which can potentially cause damage to your property.
These were only some of the things you must consider before choosing a pressure wash company. Keeping these tips in mind, you would be able to get to a decision and select a reliable and suitable company for your project.