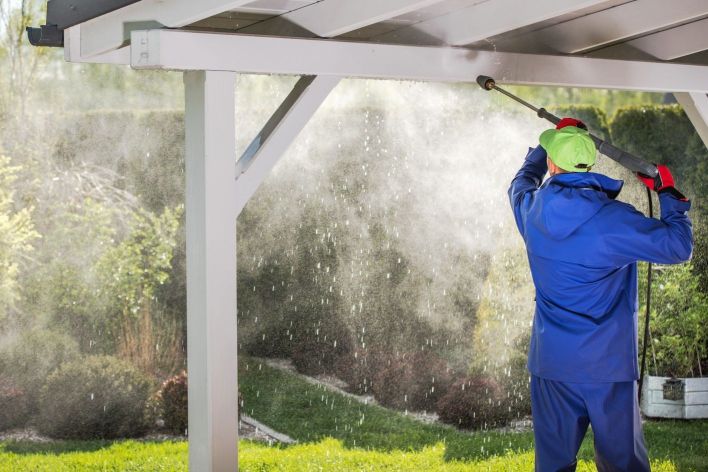 Some Pressure Washing Tips for Safe and Efficient Cleaning
If you're growing mold and mildew in the back and front yard of your home, pressure washing can show some amazing results by making your property sparkling clean again. Pressure washing is a popular cleaning method preferred by many homeowners to clean the exteriors of their properties. It is the easiest and fastest way to clean a property exterior without much effort.
If you have never done this before, you should be well prepared and careful while pressure washing your property. You can practice these pressure washing tips to finish the task much faster without damaging Your property:
Be smart and safe: The first rule of pressure washing is to be safe by using the right tools and pressure washers depending on the size of your property. Make sure to wear protective gear for eye and ear protection while pressure washing. Also, get a proper and stable ground to prevent slip and falls. Never use ladders to clean the roof and other areas using a pressure washer.
Use Traps: If safety is the first rule, protecting your exterior property should also be your top priority. Cover your flowers, plants, and other belongings to prevent any damage.
Never point the spray gun to anyone: Spraying with water seems fun and tempting to many but it could harm people and pets. Spray gun works at a very high pressure to remove mold and mildew. High water pressure can cause significant bodily injury.
Select the right nozzle: Not all the nozzles fit all pressure washing jobs. You may need a different nozzle or tip to finish your particular job, depending on the property size and cleaning required. Different nozzles provide different pressure and angle to clean different areas.
Use appropriate chemicals: Only use clinically-approved cleaning agents and chemicals for your pressure washing job. Wrong chemicals can damage your property and the pressure washer.
Develop a cleaning strategy: Never start your pressure washing project without proper planning and strategy. Determine what and how you want to clean areas on the exterior of your property. Some areas require a little preparation before using a pressure washer to clean your property. Proper planning ensures proper cleaning and safety throughout your cleaning project.
Maintain appropriate distance: It is important to maintain an appropriate distance from objects to prevent any damage.
Turn it off: If you need to take a break or pause the ongoing cleaning, don't forget to turn off the pressure washer to avoid any unfortunate event.
These are some pressure-washing tips that you must follow for an amazing result after the cleaning project without damaging your property. A professional pressure washing company can help you clean your property using the most effective ways. If you are looking for residential pressure washing in Ashburn, in the USA, contact us at Magic Wand Pros for affordable and customized cleaning plans as per your specific requirements.