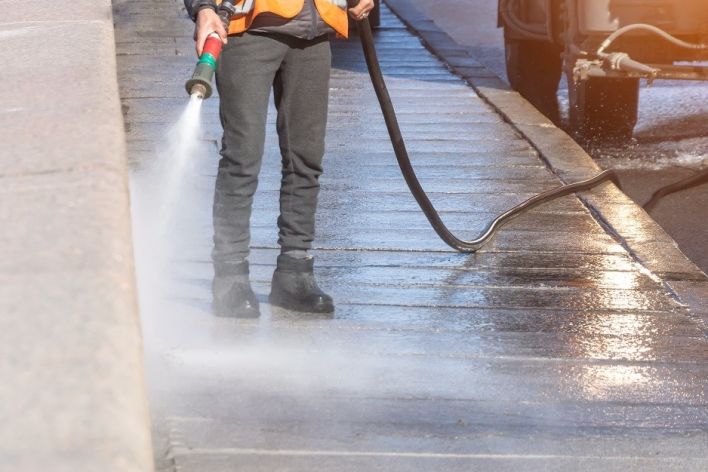 Reasons to Pressure Wash Your Driveway Regularly
The driveway of your home will be the first thing visitors notice when they arrive at your property. No matter how much care you take to maintain your driveway, if it becomes dirty, moldy, or stained over the years, it can detract from the overall aesthetics of your home.
This problem, fortunately, has a remedy. When you hire professional pressure washing services in Northern Virginia, you will be able to rid your home of accumulated dirt and grime completely.
You'll have a spotless driveway that looks fantastic. The following are some of the benefits of hiring a professional pressure washer to clean your driveway.
Pressure washing is one of the quickest and most effective ways to clean the surface of your driveway. A team of expert professionals can remove those faded stains and accumulated grime, restoring your driveway to its former glory.
Compared to the more traditional way of scouring your driveway with more typical cleaning chemicals, this can save you hours.
Driveways still contribute to the value and aesthetic appeal of your home, so you need to protect them as much as possible.
When it comes to driveway cleaning solutions, pressure washing is definitely one of the most cost-effective options available.
It is also a relatively rapid process, which means you won't be stuck waiting for pros to complete the job for hours on end.
Furthermore, pressure washing can be a low-cost approach to increase the overall value of your property, as your house price may increase simply by having your driveway surface professionally cleaned.
It's natural to have some concerns about the possibility of harsh cleaning chemicals running from your concrete to your lawn or garden when cleaning your driveway. Fortunately, you don't have to be bothered about this.
Experienced pressure washers use a variety of non-toxic detergents and other cleaning agents that are friendly to the environment.
That allows you to get a high-quality clean driveway without endangering your plants by using harsh and abrasive cleaning agents.
The Bottom Line
Every aspect of your property is a part of your home. As a result, you should be dedicated to keeping your home's outside in good shape.
You can spend a ton of money on beautiful gardening and the most gorgeous house painting, but your filthy driveway will be the focal point. Even if it's unintentional, the unsightly feature of your home becomes the talking point.
Pressure washing isn't just about cleaning your home's siding to make it appear prettier; it's also about keeping all of your surfaces spotless so that everything looks beautiful, even your driveway.
Consult the best pressure washing services in Northern Virginia if you're ready for pressure washing and driveway cleaning.