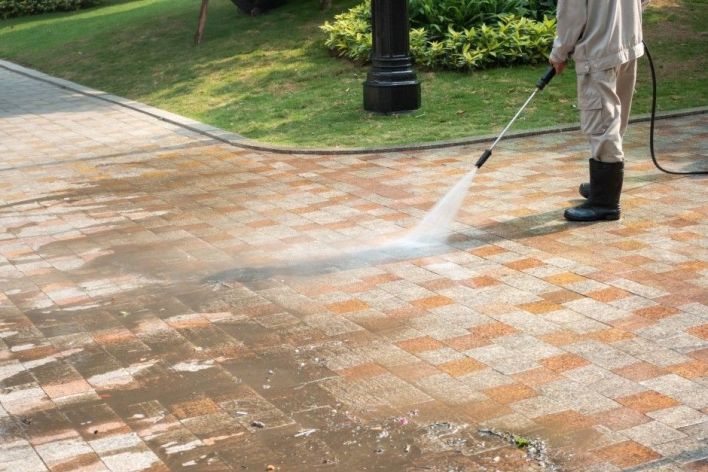 Key Preparations Points to Consider while Pressure Washing Your Exterior
Pressure washing is the cleaning method that uses a high-pressure hot water stream to clean almost all types of outdoor surfaces in any setting – residential or commercial. It is a very effective process to remove dirt, dust, mud, mold, grime, loose paint, oil stain, chewing gum, and other contaminants from surfaces, building, and other objects. Pressure washing services are offered by professional cleaning experts as it requires a special set of skills and knowledge using specialized tools and machinery for satisfactory results.
When you decide to use pressure washing to clean and restore the value of your outdoor property, you need to make sure that your cleaning partner follows the following steps of preparations before they use a pressure washer on your outdoor surface.
Safety measures
Shut off and remove all the electrical switches and components for safety reasons to avoid any risk of an electrical accident while washing your exterior with water.
Survey the site
Inspect the entire outdoor surface to check if there is any hole or crack in the surface. You must consider repairing and maintaining your outdoor surface with appropriate materials before pressure washing.
Check for stains and contaminants that are hard to remove
During the site survey, make sure to identify the areas with challenging stains that will require extra effort while washing the surface. It will help them prepare those areas to loosen the grip of the stain before pressure washing so that they can finish everything smoothly.
Protective essentials
Make sure that cleaning experts wear safety clothes, glasses, and gloves to avoid any risk of injury while working with high-pressure water and chemicals.
Prepare the surface
Make sure that all the surfaces are soaked and saturated top to bottom with water before starting the actual washing process. It prepares the surface for easy and smooth cleaning. It also ensures your surface don't absorb detergents or chemicals used for cleaning purpose.
Pick the right tools
Your cleaning experts must be equipped with the right tools and equipment for the pressure washing job. You can prefer the electric or gas-powered pressure washer as per your convenience and comfort.
Adjust the right pressure depending on the surface type
Make sure they start from a significantly lesser important area on your property to check the pressure of the water stream. It will help them adjust the settings of water pressure before cleaning the entire surface. Different surface types require a different level of water pressure to clean them without any damage.
So, these are some common preparation tips that you must follow before beginning the pressure washing process. At Magic Wand Pros, we offer affordable pressure washing services with complete expertise to clean all types of surfaces. For any pressure washing requirements – in both residential commercial facilities - in Northern Virginia, Round hill, Ashburn, and nearby areas, contact us to discuss your specific needs and book an appointment.