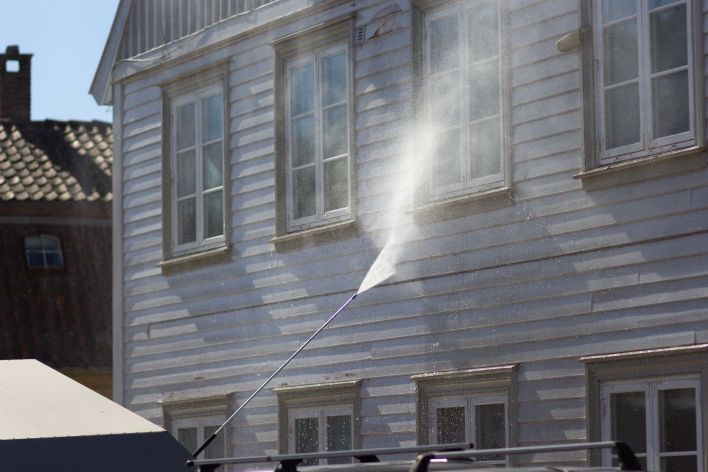 How Should You Pressure Wash Your House With Vinyl Siding?
Being a homeowner, it is your responsibility to keep the exterior of your house clean from dirt, mildew, mold, and stains and keep their house as well as their family safe and sound. One of the most efficient and quickest ways to do so is by power or pressure washing. But, how do you pressure wash if your house consists of vinyl siding?
There are quite a few things that you must know before you pick up that pressure washer and get to cleaning your vinyl siding. However, if you feel uncomfortable or overwhelmed by this job, you can always call a reliable pressure washing company and let the professionals handle this responsibility. But let's see how you can get the job done on your own.
Power washing a house with vinyl siding tends to require an extra amount of care in order to prevent any sort of damage to your house. The following are some of the important steps that you must keep in mind to pressure wash your house with vinyl siding.
Inspect your home carefully:
Walk around your house's exterior and map out a way to start your cleaning process as well as look for any signs of cracks or damaged parts on your vinyl sidings to prevent further damage. Furthermore, if you come across any dirty area on your siding, you should check if it is caused due to a leaking or broken gutter, and fix the issue before you start power washing.
The right pressure level:
A pressure washer running at a high-pressure level can easily ruin your vinyl siding by cracking it, so it is extremely essential for you to know which pressure level is optimal for washing your siding. The best and safest option is to start low and gradually work the pressure up. If you use too much power by chance, the water would sneak behind the siding and soak the wood sheet, which is bound to cause some future damage.
Be careful around certain items:
There are certain items and places to avoid when pressure washing your home such as screen doors, windows, painted surfaces, outdoor lights, existing cracked surfaces, and window screens.
Wash it away:
Once you have checked for any possible damage on your house exterior and know the right pressure level to carry out the washing, you can start spraying and power washing your vinyl siding. However, you must ensure that you use an environmentally friendly cleaning concentration that is deemed safe for sidewalks, landscapes, and most of all, sidings.
These were some of the steps you must follow to pressure wash your house and vinyl siding effectively. However, you should not hesitate to call up a reliable and professional pressure washing company if you find this difficult to do.