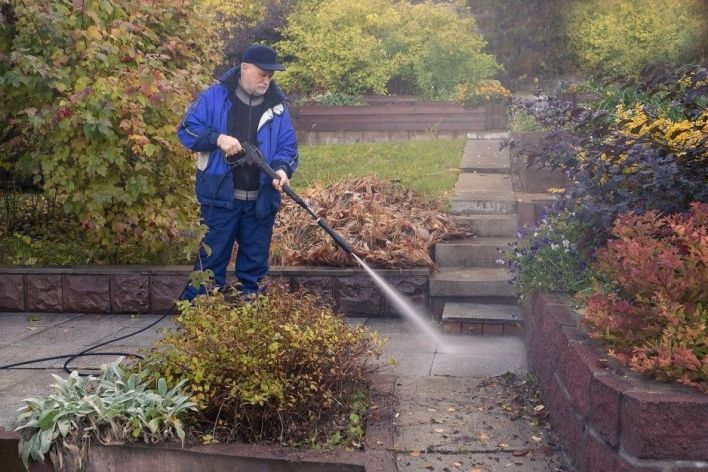 How Much Does Pressure Washing a House in Northern Virginia Cost?
Pressure washing your home is one of the best ways to make it look more appealing and refreshing. How much you will pay to pressure wash your home will depend on what particular project you need pressure washing for. While small and easily accessible areas can cost as little as $100, you might end up paying $650 or more to pressure wash larger areas or the entire home. If you opt for power washing instead, the prices will go up a bit more.
How much does it cost to pressure wash a house per foot?
Generally, the cost of pressure washing a house varies from $0.10 to $0.50 per square foot. Most pressure washing companies reduce their prices a bit for larger jobs.
On the other hand, if you want your house to be power washed - i.e. pressure washed with hot water, you can expect to pay $0.15 to $0.75 per square foot.
While the actual cleaning process is the same, the machines that professionals use will be different. However, you might notice better results with power washing because the heated water can easily remove grease and dirt more efficiently.
With that being said, remember that not all surfaces can be power washed.
Apart from this, the cost of the best pressure washing services will also vary based on the location you live. For instance, the cost of pressure washing a house in Portland, ME is much higher than that of Dallas or even New York.
If we talk about the cost of pressure washing a house in Northern Virginia, VA, it varies from $350 to $530 for a 1,500 to 2,000 sq. ft. house. The average cost to pressure wash a house there is about $460, which can go up to as the size of the house increases significantly or depending on the type of surface that needs to be cleaned.
Factors that Affect the Cost of Pressure Washing Services in Northern Virginia
When a contractor in Northern Virginia provides you with the estimate of pressure washing, they take into account a variety of factors. These factors can increase or decrease the cost of your pressure washing project.
The price of pressure washing your house depends on the size of your house, deck, patio, and driveway. The height and the square footage of your house also impact the overall cost of pressure washing your house.
Here are enlisted some of the factors that influence the cost of hiring pressure washing services:
Location of your home (prices usually vary based on the cost of living in that particular area)
Size of your house, deck, patio, and/or driveway
Height of your house
The ease of accessibility of areas that you want to be cleaned
The access to the water source as it could impact the setup and duration of the project
Landscaping and trees around your house
Type of material and surface that require cleaning (brick, concrete, vinyl, or wood)
The amount of dirt, mold, or mildew accumulated on the surface
Thus, rather than searching for a fixed estimate online, talking to your contractor for pressure washing services will help save time and figure out the most precise overall cost of the project.