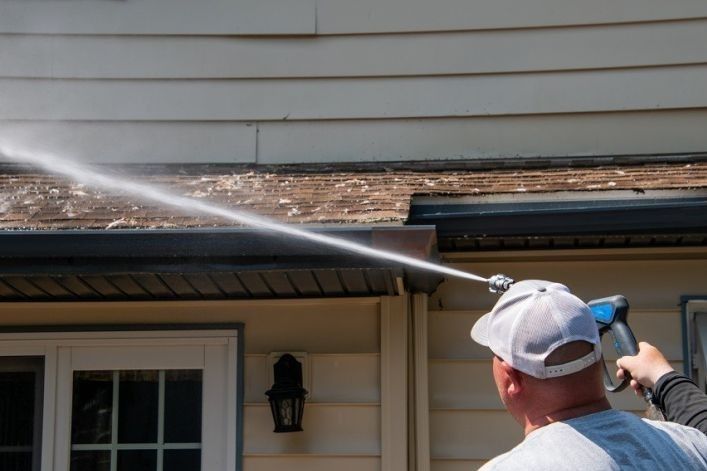 Hire Professional Pressure Washing Service for Vinyl Siding Oxidation Than DIY
All homeowners want their property to look clean and well-maintained. However, some problems can block out the actual value of your house. What many homeowners have to deal with is vinyl siding oxidation. Not only it makes your home look worse for wear, but it can also lead to costly repairs down the line.
If you want to increase the appearance of your house, here are a few ways to clean oxidized vinyl siding.
To clean oxidized vinyl siding, you can either do it yourself or hire a professional pressure washing company. If you choose the DIY approach, here's what you need to do:
Check for Oxidation Signs
It is not easy to spot the white, chalky substance on darker-colored vinyl siding. If you have pastel or lighter-colored vinyl siding, you can check for oxidation by running a finger across the vinyl siding surface.
Prepare the Cleaning Solution
You can use the primary household ingredients or products like bleach, dish soap, and vinegar for vinyl siding oxidation removal.
In order to create a vinegar cleaning solution, you have to mix five cups of vinegar with one gallon of water.
For a more effective bleach solution: mix 1/3 cup laundry detergent, 2/3 cup household cleaning, four cups household bleach, and one gallon of water.
Pour the cleaning mixture into a plastic spray bottle.
In order to rinse your vinyl siding, you can use a garden hose. It will soften dirt, grime, mold, and other contaminants that may have accumulated on your vinyl siding.
Before you deal with oxidized or faded vinyl siding, make sure to wear protective eyewear and gloves. Also, practice cautions if you use a ladder.
Apply Cleaning Solution to Vinyl Siding
Spray the cleaning solution to your vinyl siding. Make sure to work in small sections to prevent the cleaning solution from rapidly drying out. To scrub the vinyl siding, use a non-abrasive sponge or soft-bristled brush.
To rinse the cleaning solution, use the garden hose. The water should flow down to remove debris and avoid streaking. After that, allow the vinyl siding to dry.
Inspect your vinyl sidings for signs of oxidation regularly. Large-scale oxidation is harder to clean and may need more maintenance repair.
The DIY cleaning method is an inexpensive way to deal with vinyl siding oxidation. However, there are many downsides as well. It is a very tiresome and time-consuming process. There is a chance that you might not get the results on the first try.
Why is it better to use Professional Pressure Washing?
Although professional service will cost you more, it also comes with many advantages. A pressure washing company know to clean oxidized vinyl siding efficiently. They can adjust their pressure washing techniques depending on the amount of oxidation.
In the long run, you will notice that pressure washing is a cheaper option. You only have to schedule an appointment and allow professionals to deal with the work. The professional pressure washer will use the best tools and solutions to restore your vinyl siding.
Also, you won't have to deal with renting equipment, buying cleaning supplies, and other related expenses. You also don't have to deal with the stress and headaches of doing the cleaning yourself regularly.
The Bottom Line
Today, you have got many pressure washing service options. It is best to consult with a few companies to find what methods they use to clean oxidized vinyl siding and pressure washing costs.